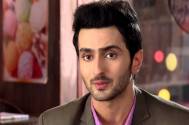 Vibhav Roy to quit Zee TV's Doli Armaanon Ki
With the much anticipated leap in pipeline for Doli Armaanon Ki, viewers are definitely in the lookout for some major drama sequences.
As informed exclusively by Tellychakkar.com, Manasi Salvi will step into Neha Marda's shoes post the leap, replacing Chhavi Mittal who was 'almost' finalised as the new Urmi.
Coming to Samrat, aka Mohit Malik, he will be seen getting into the avatar of his son, Shaurya playing the new lead in the show.
Now we have exclusive information that Vibhav Roy who is seen as Ishaan will no longer be part of Doli post the leap.
Shares a credible source, "Firstly Vibhav looks very young and to be pitched as Mohit's father would have looked really illogical. Also the way the track would move revolving around Shaurya, Vibhav wouldn't have much to do and thus he had a through conversation with the production house and the channel, and they agreed to release him."
As per sources, his character will be killed to close all loose ends in his track. The creatives will decide the final storyline in a couple of days.
We tried to reach the actor but he remained unavailable to comment.
We also dropped a text message to producer Pearl Grey, but did not receive a reply till the time of filing the story.
The role of Ishaan was initially played by Siddharth Arora who was replaced by Vibhav last year.