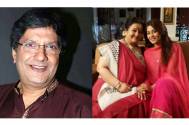 Amrapali Gupta bags a DD show; Apara Mehta, Anil Dhawan roped in
The sexy and talented Amrapali Gupta, who is seen playing a typical vamp in Zee TV's Qubool Hai (4 Lions Films), has gone on to bag another project.
Amrapali will be soon seen playing the lead in Creations Productions' new offering Umeed.
Shared a source, "The show will portray the tale of a young girl who would want to become a pilot. How the society will curb her dreams citing issues of she being a girl will form the crux of the story."
Playing her parents in the drama will be popular actors Apara Mehta and Anil Dhawan.
Umeed will be a woman oriented tale highlighting how females today are standing tall among guys. The show will be placed in the afternoon slot and reportedly run for a year.
When we called Amrapali she confirmed the news and added, "I am very excited as I will be playing a completely positive character in the show compared to my latest role. I had shot for the pilot a year back and the makers were really keen to get me onboard and thankfully things worked fine and we are ready to roll."
Well just because she has bagged a new show doesn't mean she will quit Qubool Hai, as the actress cleared the air. "No I am quitting Qubool Hai. Umeed requires just six-seven days a month and I have spoken to both my producers to get the schedule done accordingly. I feel lucky to get an opportunity to perform such variant characters at the same time."
We tried reaching Apara and Anil but they remained unavailable.
The show will soon go on floors and launch sometime soon.