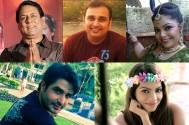 Writer duo Sonali Jaffar and Amir Jaffar's comedy sitcom for Life OK
Life OK's next big show will be the writer duo Sonali Jaffar and Amir Jaffar's scientific sitcom. This will be their first fiction work as producers under the banner Full House Media Pvt. Ltd.
The show will be a complete entertainer with well-etched characters, with a major twist in the story line.
The cast of this yet untitled show is getting finalized at the moment, is what we hear. However, the show has not got its lead faces yet.
Few popular actors have been brought on board. Rajendra Chawla, Mehul Nissar, Divya Bhatnagar, Pankit Thakkar, Tanvi Thakkar have been finalized to play the members of a huge family.
As per a reliable source, "The show will be a sitcom with a surprise element in it. The process of locking the main leads is presently on."
When contacted, Tanvi Thakkar confirmed the news saying, "Yes, I am part of the show. I am totally excited to be part of the project."
Rajendra Chawla said, "Well, talks are on. But I will be able to talk about it after a week's time, as I am considering few more offers."
Mehul Nissar on his part said, "Nothing is decided yet."
Divya told us, "I am yet to get a confirmation on this."
We could not get through to Pankit Thakkar though.
We sent out a message to Producer Amir Jaffar, but did not hear from him.
We have learnt that the pilot of the show will be shot soon. And there are plans of the project going on floor in the next month.
Full House Media also has a show on Star Plus, based on a setup of doctors in pipeline.
Watch this space for more exclusive updates.
Amir later texted saying: "Too early to talk about it. Will tell you when it's confirmed."