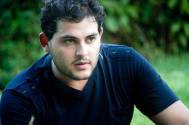 Aru Verma's 'global' role play
Actors definitely have an advantage when it comes to doing various roles and donning numerous avatars.
Popular face Aru Krishnan Verma who has been part of projects like It's Complicated, 2 States and currently seen in Begusarai, definitely vouches for the above statement.
The actor has to play a typical Bihari Thakur in the &TV show and now with his new release Bezubaan Ishq, Aru will be seen in a complete different avatar of a Sardar.
Shared the actor, "He is a cute sardar and a complete fun guy. Positive and charming, he is the type of person who hogs his way and is always up to something funny. My character definitely adds a fun element in the film. The film released yesterday (25 June), and I really hope people enjoy it."
When we asked him how difficult it was to dabble in different cultural personalities and lingos, he smiled to say, "I have grown up in Lucknow amidst Thakurs; so it was never an issue to catch up being a Bihari. I have seen people, actually the types shown in our show who believe in slapping before they utter words. And luckily for me, my dad is a Punjabi and that too mattered. My father was in a touring business and we have been around places, and thus it's easier for me to take up on any culture."
Best of luck, Aru!