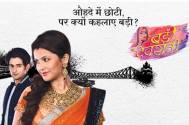 LOL: The cast of Badii Devrani fights over a Green Room
The set of &TV's Badii Devrani (Shashi Sumeet) has become a war zone. Why you ask? Here's the reason…
The cast, which include the handsome boys Mudit Nayar, Ankit Vyas, Nikhil Sharma, and pretty Girls Megha Chakraborty, Shubhi Ahuja, Roshani Shetty, Priyanka Singh, is often seen having fun fights on the sets.
And the fight happens for the coveted green room! The girls are in love with the boys' makeup room and they are often seen having a gala time there. And the boys, obviously, don't want to give away their vanity room to the girls.
We called Megha, the lead of the show, who shared, "Oh!! We have a lot of fun on the sets and indulge in fights for the room. We want their room because we get good network there."
Priyanka said, "We girls do a lot of masti. We ask the boys to leave the room so we can set up our speakers and dance. The room is very scenic!"
Great going, girls!!