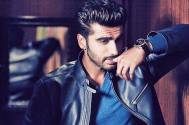 Continuing Akshay, Rohit's legacy with Khatron Ke Khiladi: Arjun Kapoor
Actor Arjun Kapoor, who is making his small screen debut as a host of the seventh season of "Khatron Ke Khiladi", is not bothered by possible comparisons with the show's former hosts, actor Akshay Kumar and filmmaker Rohit Shetty. He says he's just continuing their "legacy" and will make his own mark.
Both Akshay and Rohit lent their trademark style to the seasons that they hosted, and took it to new heights.
So, asked if he is jittery about stepping into their shoes, Arjun told IANS: "I think the audience won't tend to compare…With Akshay and me, the age group is different…I don't think there will be a major comparison that way.
"He's (Akshay) somebody who has achieved a lot in his life. Rohit is also another fantastic personality, and I have my unique personality."
The "Gunday" actor added: "I'm continuing the legacy Akshay and Rohit have started… we all have our unique skills and personality. So hopefully, this time mine will come on the forefront."
"Khatron Ke Khiladi", an adaptation of the American television show "Fear Factor" which features celebrity contestants facing their fears, will this year be shot extensively in Argentina. Arjun is especially thrilled at the venue as this would be his first time in the South American country.
"This is my first time in Argentina and of course I am looking forward to going there. Normally you don't get to go to South America very often…even our films are not shot in those area in particular. So, of course it's exciting," he said.
Arjun, who has made his mark in Bollywood, had been on the lookout for a good opportunity to register his presence on the small screen.
Talking about what excited him about "Khatron Ke Khiladi", he said: "Firstly, it's a franchise and has an in-built love and recognition as a show.
"Secondly, it's a show where I get to be involved in everything — whether it's the stunts, contestants, encouraging them, entertaining them, to being the taskmaster… you get to do everything on the show…it's not just about hosting," the "2 States" actor said.
On the silver screen, Arjun will be seen playing a house husband in R. Balki's upcoming film "Ki and Ka". The film also features actress Kareena Kapoor Khan.