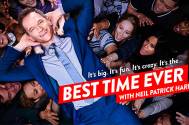 Neil Patrick Harris' new show 'Best Time Ever' premieres on Star World
What do you get when you mix Neil Patrick Harris, A-list stars and pranks? The Best Time Ever, of course!
Five Emmy Awards and a Tony Award make multi-talented Neil Patrick Harris the perfect star for this live one-hour show that is unlike any other on Indian television. Anything can happen on "Best Time Ever with Neil Patrick Harris" that premieres on Star World on Nov 1. The show will feature appearances by A-list stars, stunts, comedy skits, incredible performances, mini game shows, audience giveaways and hidden camera pranks.
Best Time Ever features a special guest announcer each week. For the premiere episode, Reese Witherspoon will lent her bubbly voice to the proceedings, which will also include appearances from Gloria Gaynor, Carson Daly and Carrot Top — plus, former Pussycat Doll and Harris's lovely assistant Nicole Scherzinger.
There are plenty fun segments to keep the audience glued to their TV couches. In "Best Days of Your Lives," for example, Harris will reveal a pair of audience members that he had been there for key moments in their lives — including their wedding! — and got it all on camera. Another highlight will see Harris pitted against Witherspoon in a skyscraper-climbing contest for a segment called "Neil Vs."
The episode will end on a high note with the "End of the Show," which will include Harris mixing cocktails to music and performing awesome pogo stick stunts.
So get ready to have the time of your life on 'Best Time Ever with Neil Patrick Harris' premiering on Star World, Sunday Nov 1 at 10.30pm.