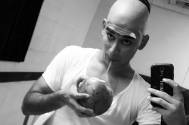 Fun time: Titu's 'Mehmood' act in Star Plus' Tu Mera Hero
Aren't you all just loving the performances of Titu (Priyanshu Jora) and Jatin (Mukul Harish) in Star Plus' Tu Mera Hero (Shashi Sumeet Productions Pvt Ltd)?
Well and now the day has arrived for the final showdown of this challenge! And with both of them indulging in a showdown tonight gear up for some super fun time.
Shared a source, "With both the performers being Mehmood fans, they will dress up as the comedian and perform to the popular number Ek chatur naar. It would be one of the most highlighted sequences of the show with a super fabulous performance by both."
As viewers would know Titu is a true fan of Mehmood and he will make sure that he performs his act with all his heart. On the other hand, the business minded Jatin will make all efforts to win the competition.
So who will finally manage to win? Any idea?
Well from what our sources whispered into our ears it is going to be Titu who will take home the winner trophy. Jiten would be at a loss of words seeing the energy and performance of Titu and give up on stage.
But nevertheless, here is what Priyanshu has to say about his experience, "It was one of the most enriching experiences of my life; not just on looks but performance wise only. Our getup was done by the same make up person who did Priyanka Chopra's look in Mary Kom. I really enjoyed the overall look of the scene and it was a special day to perform as Mehmood ji."
"It actually took us 3 hours to get the look and even after two days, the latex was coming out of my skin and hair. Since I have curly hair, people were astonished to see my bald head. Viewers should definitely watch the sequence, as it is going to be a super entertaining one," Priyanshu added.
Do catch the episode tonight!