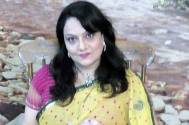 Poonaam Mathur's 'bhaang ka tadka' in Zee TV's Jamai Raja
Actress Poonaam Mathur's entry in Zee TV's Jamai Raja has brought in a 'tadka' of its own!!
She has entered recently as the conservative Bua Dadi of Sid (Ravi Dubey), the main lead. The lady who has a clear disregard and dislike towards Durga Devi (Achint Kaur) will plan to teach DD a lesson in tonight's episode.
As we know, the Bua dadi is always upset about DD criticising her grandson Sid always, and to put an end to it, she will think of a trick.
As per sources, "In order to get back at DD, bua dadi will make a special bhang ka laddoo for DD. However, tables will be turned when Sid will make Bua dadi herself eat the sweet."
This will be one hilarious sequence wherein Bua dadi, on eating the laddoo will run helter skelter and will ultimately fall into the pool.
As for Poonaam, she has starred in the movies Queen and Vicky Donor. Her first negative character for TV happened to be that of Vilayati chachi in Hum Log. She's also part of Life OK's Dafa 420 wherein she plays the mother of the main lead.
We tried calling Poonaam, but she did not respond to our calls.