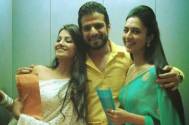 Revealed: Behind the scenes MASTI of Yeh Hai Mohabbatein
The recently aired sequence of Yeh Hai Mohabbatein must have left you in splits wherein Raman (Karan Patel) was trying his best to get Vandita (Shruti Bapna) to the hospital in time. The girl, who was crying in labour pain, was also accompanied by Romi (Aly Goni) and Abhishek (Vivek Dahiya).
But our sources share that these four also had an amazing time off screen shooting for these scenes and had a great laugh.
When we buzzed Vivek he confirmed and shared, "I think viewers just got to see 10 percent of fun on screen. The whole sequence of some of the funniest dialogues, with weirdest of happenings, it was a struggle to maintain the momentum. But with all of us being quite comfortable with each other, we had super fun."
"Since it was raining, we were completely drenched and had to continuously shoot in that condition for two days. I think if it was some other cast, they would have been irked, but we co operated and worked as a team. And Karan, Aly and me also did a lot of improvisation while shooting. I think comedy scenes should be shot that way as that brings out the flavour in a much better way."
Looking forward to more such interesting scenes Vivek!!
Aren't you guys? Then hit the LIKE button and COMMENT what you want to see in YHM next.