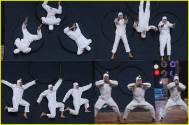 A never-seen-before 'Velcro' act on DID 5
With the first elimination last weekend on India's biggest dance reality show 'Dance India Dance Season 5', the competition in the battleground of dance has become even tougher. Be it Master Punit, Gaiti or Mudassar, each judge is trying to push their own boundaries to present exceptional, never-seen-before acts that will floor the other judges, Grandmaster and audiences alike. This Sunday, on DID 5, the theme being anti-gravity, the contestants will be seen performing without resting their feet on the stage.  All three teams – Mudassar ki Mandli, Gaiti ke Gangsters and Punit Ke Panthers are said to have packed in some phenomenal aerial acts in duets and trios for this episode.
For the first time on Indian television, audiences will witness a remarkable and a unique 'velcro' act by Punit Ke Panthers. Contestants Haroon, Nirmal and Ashish, wearing costumes made entirely out of Velcro, will be seen dancing to the popular song 'All izz well'.  The three will dance against a wall covered with Velcro that has three wheels spinning. Along with enthralling the audience with their well-co-ordinated dance moves on the floor, they will also be seen jumping on the wall, hanging upside down on the velcro wheel and spinning.
The choreographer of the act, Master Punit said, "This is the first time that you will see dancers wear a full costume made of velcro and not just dance in it but also perform stunts against a velcro wall. In the beginning, when we started executing the concept, the dancers wouldn't stick to the wall and kept falling off. Then we had an incident where the velcro of the wall came off completely. The idea was to do something distinct and it is a risk that we have taken. I am just thankful to have contestants who show faith in my concepts and give their best to bring it to life. All three panthers from my team, Haroon, Nirmal, Ashish have worked really hard in this act and I just hope the audiences like our attempt."
Other spectacular acts that wowed the masters included the 'Love birds' act by Anuradha and Saddam from Muddassar ki Mandli, who wore purple and pink feathers, used a cage as their prop and displayed some fine dancing skills amidst brave stunts. Sahil and Priya's aerial act redefined the use of umbrella as a prop. They hung mid-air on an iron umbrella and performed their entire romantic sequence on 'Pehli baar mohabbat ki hai' with just the rod for support.
It's time to get enthralled by some breath-taking performances on DID season 5, this Saturday and Sunday at 9PM on ZEE TV.