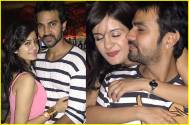 Actors dating: Love on the sets of Balaji show…
There's an erotic whiff of love on the sets of one of Balaji Telefilms' shows.
Yes, the leads of a certain daily soap are besotted with each there.
They are young and passionate hearts, Resha Konkar and Rujut Dahiya, who play onscreen couple in DD's Pavitra Bandhan.
Shared a source, "Resha and Rujut met on the sets of the above serial, developed a close bond of friendship and few months back they realised their love for each other. Must say, they are one of the best couples around who share a deep level of understanding and love."
Aaaah….that's sweet!
With this piece of information we buzzed the couple and caught them off guard.
Smiled Resha, "Yes Rujut is a very special person in my life. We love each other's company, which is the beauty of our relationship."
Rujut, on his part, was more comfortable in talking about the bonding. "Yes, we do love each other and have no qualms accepting it. I met Resha when she came to audition for my on-screen wife's role in Pavitra Bandhan. Before her, four other girls had been almost finalised. Guess she was destined to romance me (winks). We started spending time and gradually realised we were made for each other."
Now, Resha, before rushing for her shoot, told us that they call themselves a 'normal filmy couple'.
And why is that?
Rujut explains here: "Because we do enjoy normal things when in love, like walking hands in hand or spending time together and filmy because we are really dramatic (laughs). Reshu is dramatic with her dialogues and I am good at expressing my love, so we both complement each other the best."
Apart from Pavitra Bandhan, Resha is also a part of Yeh Hai Mohabbatein and Rujut simultaneously features in Piya Rangrezz.
They keep busy but make all efforts to take time out to be together.
As for marriage, that has to wait for the couple feels that work that got them together should be at priority at this time of their career.