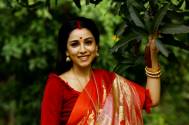 Amrita Puri makes her TV debut with Anurag Basu's show on The EPIC Channel
The EPIC Channel will soon be launching a new show created by none other than, acclaimed director, Anurag Basu. The show is scheduled to go on air this June 2015 on the EPIC Channel. Amongst many other known faces, will also be seen Amrita Puri playing the lead role of 'Charulata', which is an adaptation of Rabindranath Tagore's novel by the same name.
After acting in successful movies like Aisha (2009) & Kai Po Che (2013), Amrita Puri makes her debut on TV with this show. Excited about the show, the actress says, "Being a literature student, I was excited to be offered the role. Tagore's work is a legacy and part of History. His stories are women-centric and progressive and Charulata is one such beautiful story."
Tagore in his stories has always had a woman protagonist playing the lead. He portrays them as strong, confident women making bold decisions in trying situations. His portrayals resonate with us and his stories, relevant to us even today. A director of the caliber of Anurag Basu who has done wonderful work, and is known for his visual storytelling has chosen to do Rabindranath Tagore stories in his own unique way. Anurag is adept at handling human emotions in the most sensitive and heartwarming manner.
Preparing for the show, Amrita Puri adds, "I am a method actor and I like to delve into the character. However, Anurag works differently. He is spontaneous and goes with the flow; I had to unlearn all I knew to work according to him."
Don't miss out on the debut of Amrita Puri on the heart–touching story of Charulata, coming soon only on The EPIC channel.