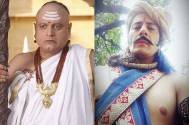 Chanakya to appoint Aakramak as Ashoka's Guru
Colors' show Chakravartin Ashoka Samrat (Contiloe) is gradually picking up its pace with its gripping storyline. And with Bindusara (Sameer Dharmadhikari) bonding with Ashoka (Siddharth Nigam), the show will take a new interesting turn.
Our source revealed, "Chanakya (Manoj Joshi), who is protecting Dharma from Khosran (Vikrant Chaturvedi) will take care of Ashoka now, and will have the intention of training him properly in warfare and royal arts. But, the royal kids will not easily accept Ashoka without knowing about his true identity."
But Chanakya will be determined that the young lad should receive proper education and upon seeing the negative reaction from other royal kids, he will appoint Aakramak (Sachin Verma) to personally train him."
When we contacted Sachin Verma, he commented, "Initially my character was believed to have influenced by Khosran, but my character is a very positive one, who is very much loyal to Magadh. Being a warrior of the state I will be seen in Ashoka's guru's role in upcoming episodes. Chanakya will appoint me to train Ashoka properly and I will obey his order."
With this new development viewers will gradually witness Ashoka to become a strong and skilled warrior. But, we have to wait and watch how he will save himself from murder attempts on his life.
We will keep our readers updated with more information.