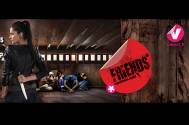 Channel V's Friends season 2 put on hold
The suspense filled youth centric show Friends- Conditions Apply on Channel V instantly became a favourite given its gripping storyline and stellar star cast. The show produced by Kabir Sadanand portrayed the tale of a young girl who keeps her friends hostage to save her foster dad.
The show that took a seasonal break on 6 February and was supposed to return in a revamped avatar post the World Cup fever. But now we have heard that Channel V's Friends season 2 has been put on hold.
The clarity of it coming back also seems bleak as there have been no discussions with the maker and channel on it.
When we buzzed Producer Kabir Sadanand he was in a meeting. Rushing for the same he said, "I haven't scrapped the idea of season 2 (laughs). But yes, it has been postponed at the moment, and the clarity on the same is yet to come to me."
Content Head of Channel V, Lavanaya Anand too confirmed the news and said, "The show is on hold at the moment and we are yet to work out on the details of the next season."
Lavanya also seemed positive about their new venture Swim Team, "For now viewers can surely enjoy one of a kind experience with Swim Team that is based on the concept of frenemies. Also a show completely based on a sports arena has never been projected on TV and we are really excited on the same."
What are your views on Friends season 2 being on a hold? Shout out your take in the comment box below.