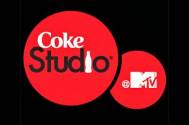 Coke Studio@MTV adapts year-long 'always on' format
Coke Studio@ MTV, an experiment in fusion music, is returning with its fourth season in an "always on" format, wherein one musical composition, as a video and audio, will be released every week; and more live concerts will be organised for music aficianados across the country.
Coke Studio@MTV Season 4 promises to be a year-long show of soulful music, curated and composed by artistes like Vishal-Shekhar, Amit Trivedi, Pritam, Clinton Cerejo, Sachin-Jingar, Ram Sampath, Sneha Khanwalkar, Papon, Badshah and Raftaar.
Singers in the season include Rekha Bhardwaj, Jyoti Nooran and Harshdeep Kaur.
Starting March 1, every first Sunday of the months till the season continues, Coke Studio@MTV will release a musical composition, both as a stylised video and audio, along with multiple elements that will capture the journey of making the music, including studio sessions, producer profiles and more.
Each of these videos and audio will be simultaneously released on all MTV platforms and deployed across all audio and video platforms like YouTube, Saavn, Gaana and iTunes by Zee Music.
MTV will also be re-releasing two audience favourites Madari and Kattey with new videos to kick off Coke Studio@MTV Season 4. Additionally, live experiences through more than 50 concerts and outreach programs, reaching 100 colleges across 10 cities, will be a star attraction.
Debabrata Mukherjee, vice president (Marketing and Commercial), Coca-Cola India and South West Asia, said: "'Coke Studio' is a platform, owned by a community of millions of music lovers. That makes it easy for us, because this community tells us what to do. But that also puts a huge responsibility on us because we have to ensure that we meet their expectations.
"What they have asked of us, is to change the format and make it 'always on', 'yearlong' and as 'singles' rather than an album. We have made an honest attempt to deliver on these."
After producing 140 songs with over 400 artistes, the hunger to delight music fans has driven MTV to give the "Coke Studio" format a whole new beat, says the channel's executive vice president and business head Aditya Swamy.
"While music will always be at the very heart of this production, we have introduced new elements that build a deeper content experience. As classic meets contemporary, we are excited about starting a new chapter in the music bible of India," he said.