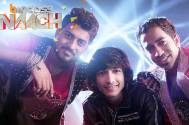 Friendships, dance make Shantanu Maheshwari happy
Actor-dancer Shantanu Maheshwari, who will be seen as a mentor in the TV show "bindass NAACH", believes that friendship and dance are two of his biggest pillars for growth and happiness.
The show has brought three dancers together – Shantanu, Macedon D'mello and Nimit Kotian, and it highlights their journey as they work towards making their dream come true.
"Friendship and dance are two of my biggest pillars for growth and happiness. 'bindass NAACH' has brought us together once again to relive our dream that we saw in college. It has been a great journey so far and it has taken us so much closer to our dream," Shantanu said in a statement.
Talking about it further, he added: "We are not only living our passion together but will also be representing our country at an international level."
The dance troupe will represent Indian in an international dance competition– World of Dance 2015 to be held in Los Angeles next month.