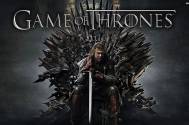 'Game of Thrones' gets three new members
"Game of Thrones" has added three new members to Samwell Tarly's (John Bradley) family for the upcoming season six.
"Da Vinci's Demons" and "Downton Abbey" actor James Faulkner will play Tarly's stern and strong-willed father, Randyll Tarly, while "From Hell" actress Samantha Spiro will play his mother Melessa Tarly and Rebecca Benson will play his sister Talla Tarly, reports variety.com.
They'll join previously announced actors Freddie Stroma, Pilou Asbæk, Richard E. Grant and Ian McShane among others.
"Game of Thrones" leads this year's Emmy Awards race with 24 nominations, including nods for Peter Dinklage, Emilia Clarke, Lena Headey and Diana Rigg.