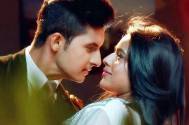 Goons to attack Roshni and Sid in Zee TV's Jamai Raja
Zee TV's Jamai Raja (Sagar Pictures) has welcomed the year 2016 with high end drama and some impressive twists.
As per the ongoing track, Kunal (Adhvik Mahajan) is trying hard to get back his wife Roshni (Nia Sharma) from Siddharth (Ravi Dubey).
Now, we have heard that the makers have something all the more interesting in its upcoming episodes.
As per our sources, Bansi Ben would ask Roshni to remove Siddharth's mangalsutra and wear Kunal's, as he is her first husband.
This will make Sid's father angry and he would call NGO people to solve the crisis. The team would arrive in time and have a major showdown with Bansi Behen. They would also go to the extent of smearing her face with black paint.
This is not the end…the drama will continue!
We have heard that some goons will attack Sid and Roshni, and surprisingly Kunal will come to rescue both of them.
Why is Kunal being nice to Sid? Does he has some ulterior motive in it?
We buzzed Adhvik, who shared, "Well. I am not aware about the upcoming track, but yes viewers will definitely be treated to some fun moments. I am happy to be part of the show as playing negative role is a great experience."
Keep up the good work Adhvik!