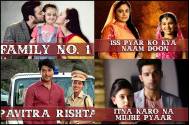 Got to read it: Titles of daily soaps SWAPPED
We say swapping is good. Swapping is so good, that sometimes we wonder how can something be so good. What? Did you just tell us to 'stop fooling around'? Well, then very well…let's get on with the story.
Now, what exactly are we getting into here? Flummoxed? Curious? Hungry to know more?
Yes, we like that!!!
Let's cut to the chase.
Readers! With so many shows coming up every other day, have you ever paid attention to their titles? Well, we have. And this is our conclusion: While some names suit the theme of a daily, others sound rather weird! And just to brighten up your otherwise regular day, we've come with a fun feature, where we've decided to replace the name of one daily with that of another one. And here are the results…Take a look:
Yeh Hai Mohabbatein with Family No. 1:
The Bhallas and the Iyers are always there for each other like a solid support. With two families coming together through marriage, it wouldn't be wrong to call them Family No. 1. Isn't it?
Sasural Simar Ka with Ek Hazaaron Mein Meri Behna Hai:
This show is more fixated with Simar's equation with her sister Roli. It's all about sisterly love and almost forgetting about the other members of the Sasural (in-law's place). Truly, these sisters are legends!
Meri Aashiqui Tum Se Hi with Saath Nibhana Saathiya:
With Ranveer and Ishani's on-off relationship, the entire track has lost its Ashiqui-esque appeal. Neither of them is willing to trust each other and confess the simple truth. Considering all this, we can only request them to Saathiya, saath nibhaana (Partner, be there for me)
Yeh Rishta Kya Kehlata Hai with Kahaani Ghar Ghar Kii:
The loyal viewers of Yeh Rishta… would have noticed that this soap opera minutely depicts the daily household chores like cleaning the furniture, chopping vegetables and ladies testing their culinary skills, and so on. In fact, it's the story of each home (Kahaani Ghar Ghar Kii)
Kaisi Yeh Yaariaan with Itna Karo Na Mujhe Pyar:
No offence to MaNan fans, but we are bored with the PDA and lovey-dovey moments between Manek and Nandini. We are so tired of the mush that we are screaming 'Itna Karo Na Mujhe Pyaar!'
Diya Aur Baati Hum with Pavitra Rishta:
Diya Aur Baati Hum has inspired us and showed us how a true life partner should be. The beautiful relation between Sooraj and Sandhya has restored our faith in marriage. And if this is not the purest bond (Pavitra Rishta) in the world, then nothing else can be.
Balika Vadhu with Iss Pyar Ko Kya Naam Doon:
We have finally lost the count of Jagya's endless love stories. Battling with his feelings and still searching for peace in his love, obviously even he doesn't know Iss Pyar Ko Kya Naam Doon (What Do I Call This Love?).
Chakravartin Ashoka Samrat with Pyaar Kii Ye Ek Kahaani:
We are surprised that the historical drama has shifted its focus from Emporer Ashoka's achievements to Bindusara and Dharma's love story. Unfortunately, our boring history texts never gave due attention to love stories to make the subject a bit more interesting!
Satrangi Sasural with Kyunki Saas bhi Kabhi Bahu Thi:
Now, handling seven mothers-in-law single-handedly is not a matter of joke. But Arushi seems to be doing that with élan. Still her saasu moms are not pleased with her. Uff! We just want to remind her dear mothers-in-law that even they were daughters-in-law in the past. Or wait, is that the actual reason they are not kind towards Arushi? Hmm.
Mahakumbh with Amrit Manthan:
Since all the focus is on the Holy Nectar in Mahakumbh, we could not think of any other name for this finite series of one twenty episodes. Moreover, it does sound perfect when you take into consideration our Hindu mythology.
If you agree with us, do share and retweet. And if you can think of any other name swaps for other dailies, feel free to comment below!