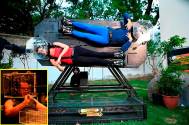 'Head spin' and a 'face pack' for contestants in Colors' Khatron Ke Khiladi
Do you readers want to get your weekend preview on the amazing stunts that Colors' adventure reality show, Khatron Ke Khiladi will put through their contestants to?
Well, get ready to watch a visual treat as your favourites will have their 'head spinning' and face going 'pale'…
Yes, that's what is going to happen…
In tonight's episode, in the stunt titled 'Maroon Helmet Spin', the contestants will have to spin on a wheel while stuffing marrons into a Plexiglas box. Also in the box will be the contestants' heads. The contenders for this stunt will be Rashami Desai and Nandish Sandhu, Sagarika Ghatge and Sana Khan. The winner will be the one who will pick as many marrons as possible.
Well, Sunday's episode will certainly bring a scare on viewers' faces…
The contestants will be made to sit on a chair, with a large number of tarantulas being placed all over his body. In two minutes, the contestant will have to pick these tarantulas and place them on their face. The contenders for this one will be Iqbal Khan, Archana Vijaya, Rashami Desai, Asha Negi.
Phew!! This looks exciting indeed!!
Get ready to watch them right on your TV sets this weekend…