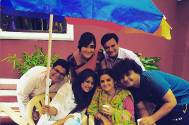 Heat and no a/c make Chidiya Ghar actors sweat and fret
The heat wave is currently on. We all are anxiously waiting for drops from heaven, to pacify our hearts and minds.
And the 'heat' scenario is pretty bleak on the sets of SAB TV's Chidiya Ghar (Garima Productions).
We hear from our sources that the actors are shooting in extreme heat as there is no air conditioner.
Throwing more light on it, actress Aditi Sajwan aka Koyal shared, "We have most of our scenes in the veranda area which is completely an open space and has no air-conditioning. Due to which we have to shoot in this blazing heat and this has taken toll on my body. After every shot we rush to our rooms to feel the cool breeze. This has led to cough, cold and fever."
Agreeing on the same, Shafaq Naaz aka Mayuri added, "Few days back we had a party sequence which was too taxing for us to shoot in this hot weather. I have got heat boils and rashes all over my body."
While Paresh Ganatra (Ghotak) averred, "Well, I have adopted to this situation. I know it's very difficult to shoot in this heat but I make sure to have water and other fluids on regular intervals."
We also tried calling Sumit Arora and Trishikha Tripathi but they remained unavailable to comment.
When we spoke to Producer Ashwini Dheer he chose not to comment on the issue.