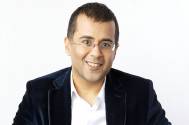 Hope 'Nach Baliye' clears my doubts about reality shows: Chetan Bhagat
Scripted and staged fights are thought to be synonymous with reality shows. Now, author Chetan Bhagat, who will be judging dance reality TV show "Nach Baliye 7", is on a quest to find out the truth for himself.
He hopes his own doubts and perception about reality shows are cleared.
"I was skeptical of reality shows, and I informed Ekta (Ekta Kapoor, producer of the TV show) about it. She said 'Go and find out whether it is real or not'. So, I will make sure that all those doubts are cleared. I will also make sure it is real," Bhagat said.
Bhagat, who will share the judges' panel with choreographer Marzi Pestonji and actress Preity Zinta, plans to dig out the truth by "quizzing couples and cross-examining them".
In the show, celebrity couples showcase their dance moves to win the trophy. But the bestselling novelist pointed that he is not a dance expert and will focus on the reality quotient.
"I'm not a dance expert, but the format of the show has changed a lot. There is more reality in it now. Audience will see couples outside the dance floor also. And I think a lot of people are interested in that as they are celebrities. I will be helping in that aspect," he said.
Bhagat quit a banking job to turn into a writer and found success. He has churned out bestsellers like "Five Point Someone", "The 3 Mistakes of My Life", and "2 States: The Story Of My Marriage" and most of his novels have been adapted into successful movies. Bhagat has also written the screenplay for Salman Khan-starrer "Kick".
Now he is venturing onto the small screen for the first time. An IIT-Delhi and IIM-Ahmedabad alumnus, he says moving out of his comfort zone is difficult, but a positive response from people around him has injected confidence in him to continue.
"It is the first time that I will be seen like this on small screen. A lot of people are asking 'What is Chetan doing in this?'. There is a lot of curiosity about it. So, I am excited about it and nervous as well. It is something out of my comfort zone, but the feedback that I am getting is quite positive so I am happy," he said.
The author plans to treat the show as a platform to reach the masses.
"I want to reach maximum number of Indians. The more Indians I reach the better are the chances of them listening to me and my views. It is a way for me to reach people."
With his stint on the Star Plus show, Bhagat also hopes to appreciate dance as an art form, rather than becoming a dancer himself!