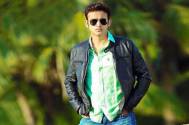 I am hungry to do good work: Romit Raj
When we decided to have a rendezvous with Romit, we thought it would be a quick interaction. But when the thespian started talking, the chat went on and on and on, thanks to his gift of the gab.
After creating an impact with TV shows namely Shaka Laka Boom Boom, Maayka, Ghar Ki Lakshmi Betiyann, Adaalat and many more, Romit is now impressing masses with SAB TV's newly launched show Chalti Ka NaamGaadi.
He has always managed to play different type of roles on-screen, and is waiting to portray the best of characters.
In an interview with Romit spoke about his role, show, daughter Reha, co-star Srishty, reality series and more.
Post Adaalat, what attracted you to pick up Chalti Ka Naam Gaadi?
CKNG has been a game changer for me. The show is very different and fresh. You have never seen such a type of show earlier on TV. The best part is it's a 26 episodes show. In that way your show's content remains intact and not dragged.
So how has the response been till now?
I am getting a very good response and people genuinely like our show. CKNG connects with every age group. A person can enjoy watching our show with their entire family. I am glad to work with Deepti Bhatnagar who believed that the role of Karan will suit me best.
As car plays an important role in the show, what if you come across a talking car in real life?
You won't believe that after doing this show, I have actually started talking to cars. I have an emotional touch with my car now.
Are you crazy about cars?     
I am very fond of cars. In fact I enjoy driving more than riding.
How's shooting with your co-star Srishty (Rode)?
Well, Srishty and I get along very well. Many are not aware that we two are big time foodies (smiles). Our love for food keeps us connected, I feel.
Does reality shows interest you?
Let me think. Personally I am of the opinion that in today's time there is nothing called a reality show. Whatever you see on screen these days is about entertainment. I don't mind being part of a dance based reality show, or an adventurous show, but then the format has to excite me.
Talking about your professional journey, how satisfied are you as an actor?
Ahh…really good question. Boy, you really made me thinking (laughs). Let's see…with CKNG, it's a drop in the ocean. I am happy that I have played varied lead roles on screen. But my best work is yet to come. I am very hungry for good work.
You wish to do periodic shows?
Frankly speaking many people think that I can get into the skin of periodic shows very easily. I am very much open doing mythological and historical drama on TV.
Other than being a good actor, how are you as a father?
I am a very protective father. I tell stories and sing poetry to my daughter. If I spot my daughter singing or watching songs or movies not suitable for her, I instantly stop her. As a father it's very important what your kid is thinking. As a parent you have to be very particular about their words and action.
You seem to be a perfect dad, so any plans of having a second baby?
Let's see, not thought about it.
Good luck Romit!