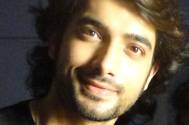 I don't let rumours bother me – Ssharad Malhotra
With stardom comes the constant public gaze over actor's personal and professional life. And this perpetual scrutiny used to bother television actor Ssharad Malhotra, but he has found a way to live with it.
Ever since news of Ssharad and actress Divyanka Tripathi parting ways after seven years together came out, there's a long list of theories decoding the reason of their break-up. But Ssharad's mantra is to pay no heed to the rumours.
"It used to bother me. But I believe that speculations will always be there and one can't keep on clearing out things. At the end of the day you know what you have done. Everyone has issues, be it personal or professional, so that's okay," Ssharad told.
The actor, who is currently seen in historical Sony TV drama "Bharat Ka Veer Putra Maharana Pratap", says the role is "physically exerting".
"The role is physically exerting. We do horse-riding, sword fighting, martial arts and then the heavy costumes. But what matters in the end is when people appreciate your work," he said.
Ssharad has also done an acting cum direction course from New York Film Academy. But the actor says he is more interested in acting rather than direction right now.
"I would like to direct for big as well as small screen some day. But for now acting is the only thing in my mind. I have so many characters in my mind that I would like to do first," he said.