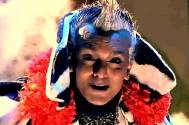 I will make Bigg Boss 9 entertaining: Imam Siddique
This man has always been one of the most entertaining contestants of Bigg Boss (Endemol & Colors). He alone can keep you glued to your television screens. Such is the charm of this man.
We are talking about the fashion stylist and television personality Imam Siddique.
Imam is all set to enter the Bigg Boss house with the sole purpose of entertaining the audience. Though we have seen a very different side of Imam on season 6, now the talented man is much more sorted and calm. And it was quite evident when we chatted with him before he entered the house.
The man himself claimed to be much sorted and refined now. "I would say that earlier I was like a charcoal, but now after having my share of experiences, I am like a diamond. I am entering the house with the sole purpose of entertainment. My life has been one learning experience and I am really grateful to Colors that they have given me the responsibility of entering the house and select the second finalist of this season," he said.
When asked about the contestants of the ongoing season, Imam was quick to reply, "It won't be fair on my part to compare my season with this one, but somehow I feel that my season was quite entertaining. But for this lot, I believe that they have somehow wasted the opportunity of being a part of this show as they remained too busy being unnecessarily aggressive."
So, what is the task that you have designed for the inmates? "Since it is the ninth season of Bigg Boss, I have designed a performance-based task focusing on Nava Rasa (nine emotions). The one who performs the best would emerge as the winner," he added.
When quizzed him about his favourite contestants…Imam said, "I won't say that I have any favourites but three of the contestants who have touched my heart are Keith, Rochelle and Mandana. These three do not appear to be fake to me. Having said that, I would like to add that I know how difficult it is to survive. Hence, would not go inside with any preconceived notion and would be fair enough."
As the man gears up for his entry in Bigg Boss, we wish him all the luck.