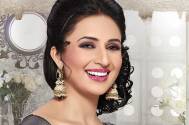 If I do a negative role then people will start hating me: Divyanka Tripathi
Actress Divyanka Tripathi has carved an image of a sweet, simple and caring woman through her on screen avatars, and this is stopping her from exploring darker emotions on small screen. Divyanka says she fears her fans will start hating her post a negative role.
"I would love to do a negative role, but I am scared. The reason is that I give my fullest to the characters I play. I feel what my character in going through and then emote on camera. So I have a feeling that if I do a negative role then people will start hating me," Divyanka told IANS.
"They will detest me and that is why I'm in two minds about doing such roles. I can try it in some short-term projects, but I won't take any negative characters in a long-running daily show," she added.
The actress, who has earlier featured in shows like "Banoo Main Teri Dulhann" and "Mrs. & Mr. Sharma Allahabadwale", also noted that when it comes to picking roles she gets very choosy.
"I'm very finicky and picky about my characters. I don't want to do any role in which I have nothing to do. I love challenges and if my character goes straight, then I get bored," she said.
For Divyanka, that's not just the case for her reel avatars, but in real life too.
"I cannot live a straight line life. I have experimented and explored a lot in the course of my own life. And that has been the pattern in my acting career as well," she said.
The actress is now credited to have changed the common perception of evil stepmother with her Star Plus show "Yeh Hai Mohabbatein". Divyanka plays role of Ishita, who gets married to a Punjabi man for his daughter Ruhi.
"I am glad with the change in ideology and this is how it should be. A filmy concept and scenario was formed in which everyone believed that stepmothers aren't capable of raising stepdaughters with the same love and care as the biological mother. But it is utterly wrong," she said.
The actress shares a very close rapport with her on screen daughter and child artist Ruhanika Dhawan, who calls her "Ishi Maa" off screen as well.