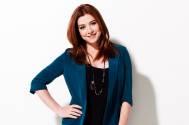 In conversation with Alyson Hannigan aka Lily from How I Met Your Mother
The very beautiful Alyson Hannigan plays Lily Aldrin in the popular series How I Met Your Mother.
Lily is a Kindergarten Teacher and amateur painter who grew up in Brooklyn, NY. From the start of the show, Marshall and Lily are engaged. She left him briefly to pursue her dream of becoming an artist. She returned and confessed that leaving was a mistake. Soon after, she proposed to him and within a year, they got married.
She had two wedding ceremonies. One, her perfect outdoor wedding with only her closest friends, and the other, a fancy over-the-top wedding with her family, in which practically everything that could go wrong, did. Lily is a "loud chewer" and as a person an impulsive one in her relationship. She is usually found in the company of men — her husband, Marshall and friends Ted, Barney.
She's obsessed with designer clothes and boots, and goes into debt for spending too much on her clothing.
In the year 2014, Alyson was nominated in the People's Choice Awards, USA for the TV Gal Pals category with Cobie Smulders (Robin). Here's Alyson getting into a chat with
Not too many sitcoms really last the distance, like How I Met Your Mother has done.  What do you think kept it going to new levels of success?
A lot of elements… but first and most important, the writing.  From the pilot script alone, it stood out; was the best I had read.  It had heart, was funny, was fresh with the whole way they play with the time element and the flashbacks and everything.  It just seemed different and special. Then you add the cast and we all just had that sort of, something you can't explain, it's just great chemistry that was there from the get-go. Every element sort of came together in the right way and we felt it while it was happening, too. Luckily everything aligned and here we still are. But I wish I did sort of know what the secret was, because I'd be a very powerful Hollywood exec. (Laughter)
Do you have much input into the direction of the Lily character, or is it sort of 'let the writers have a really good take on it and the script'; how does that work?
I've always been one to say, hey it's not my job.  If there's something that I think is really not Lily, I would stand up for her. But I don't feel like it's my job to go in and sort of pitch things because I'm not a writer, and they are. And they're fabulous. They do such a great job, so I'm not going to, my ideas would be ridiculous anyway. "She should eat more cupcakes in this season!" I'd just be silly.
The Lily and Marshall chemistry is great. And you're very good friends. Is that important?
It is. Obviously as an actor you have to do it regardless, but it's really nice to do it with someone you like. And Jason and I work really well together and we just enjoy it so much, it really helps make it so much easier, so I'm very grateful for that.
What's it like to play a very common family on TV?
It just seems real to me. My husband and I don't have any family that lives out here, so that's exactly how it is. The thing I don't relate to is the big family there; it seems so lovely but that's not my world. That's not how I was raised. I was the only child too, so my friends have always been my family.
Over the 200 episodes do you have a favorite Lily episode or a highlight for your character?
It all seems like one episode to me. My memory goes in moments so I couldn't tell you what the show was about, but that moment at the airport when the orchestra comes in; that's forever in my heart. I was pregnant at the time to so I was highly emotional and then just to be surrounded… it was so lovely!
Satyana (Alyson's  daughter) is growing up…  So how are you balancing motherhood out with working on the show?
It's wonderful; I couldn't be happier! The people on the show are so supportive. I get to bring her to work every day and I have a nursery set up. My husband comes with us and it just couldn't be a better environment as far as being a working mom. But it is hard to balance, if we have a long day. They have to go home before I do, and I don't get to put her in bed. It's heartbreaking. Luckily that only happens every once and a while.