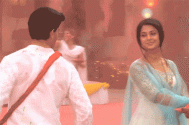 In GIFs: Holi, Romance and Jodis-Part 1
Holi is the festival of love, passion, desire and romance. It is the day when souls meet and connect. As Holi continues to spread love in your lives, Tellychakkar.com brings to you the top romantic Holi sequences of your favorite onscreen jodis.
Arnav and Khushi (Iss Pyaar Ko)
Loved blossom between the lovely couple Arnav and Khushi during the Holi scene where Khushi forced Arnav to drink thandai and later they vent out their emotions and express their love for each other.
Maan and Geet (Geet)
They groove to the sexy tunes of Tip tip barsa paani and we must say even in rains the two shared a fiery chemistry.
Armaan and Riddhima (Dil Mill Gayye)
Under the effect of the bhang ladoos, Armaan and Riddhima confess their liking for each other and portray a romantic and fun scene.
Aditya and Pankhuri (Pyaar Ka Dard)
Aditya and Pankhuri take some time out to enjoy the drizzles and don't seem to get enough of each other. They surely make for one of the cutest couple on screen.
Sooraj and Sandhya (Diya Aur Baati)
Sooraj and Sandhya get romantic and share some loving moments as Holi continues to drench them from head to toe.

Raman and Ishita (Yeh Hai Mohabbatein)
Ishita being much in love with Raman takes care of him despite his hatred towards her. The two dance for their lovely daughter Ruhi and assure that she is happy.
Saras and Kumud (Saraswatichandra)
Saras tries to apply colour on Kumud's face, but they share an eye gazing moment and Kumud escapes from there.
Stay hooked for part 2…