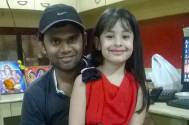 It's high time we get our due: Aryan Vora, Casting Director
An actor definitely is the face of a show. And getting the perfect actor for the given character is the job of a casting director.
A very talented professional Aryan Vora who recently was working with Guroudev Bhalla and Dhaval Gada's production recently got chatty with us to share insights about this profession.
"I think casting is one of the most difficult aspects of launching a show. If the actor is not fit for a role or cannot connect with the audience, a show will never work. It is thus our prime duty to match make actors and roles," smiled Aryan.
"Unfortunately in the industry we are not given our right due. Be if putting our name in the credit list to the right money, casting directors always face a flak. But nevertheless when you are passionate towards your work, you tend to oversee it all," he added when asked about the challenges he faces.
Recently with him casting primarily for the production house's show on Life OK, we asked his take on jumping companies. "Firstly there is no stagnancy as everyone wants to grow. I have been offered some better opportunities and thus chose to quit. The show (Ek Chutki Sindoor) was definitely a task as we had loads of replacement happening. Thankfully with the pilot being approved, I am glad it will now take a flight. I wish the entire team great success with the show."
Wish you luck Aryan!