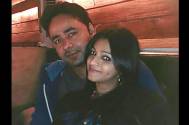 Jyotsna Chandola's surprise birthday date for fiancé Nitesh Singh
Wise men have rightly said that love makes us do a lot of things and same is definitely true for actress Jyotsna Chandola, who is truly, madly and deeply in love with her beau director Nitesh Singh.
Wondering why we are saying so?
Well recently Jyotsna arranged for a special surprise birthday date for the two. Nitesh, who celebrated his birthday on 8 March, was busy shooting for his serial and Jyotsna on the other hand was engaged in planning for a special surprise on his special day.
When we contacted Jyostna, she mentioned, "I knew Nitesh will be busy shooting so, I thought of giving him a surprise. I went to his place and decorated his home with balloons and other props. But, unfortunately his shoot went for long and he returned home really late".
"Though I was feeling a little low as I was waiting all alone for him to return, I was also feeling excited to do the preparations for him", added the lovely lady.
And since the original plan did not go well, the duo went on to party at the Rude Lounge next day followed by a long drive wherethe lovey dovey couple shared some good, romantic moments.
Jyotsna added, "Though the plan could not be as successful as I wished it to be, nevertheless we enjoyed our moments together".
We wish the lovely couple a blissful life.