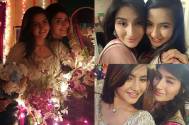 Meet the new SOUL SISTERS of telly town
We often hear of actresses' cat fight on the set but two girls sharing a good rapport with each other is rarely heard.
But here we bring you the soul sisters who are inseparable on the set.
They play sisters on screen. But it seems actresses Monica Sharma and Meera Deosthale, who are part of &TV's Dilli Wali Thakur Gurls share a great bond off screen as well.
These sisters share a beautiful relation among themselves that's full of love and also a lot of nok-jhoks.
Monica, who plays Chandi, says, Meera and I are vanity mates. So we know each other's secret very well. I am a very reserved person so I don't make friends easily. Especially when I am on work I tend to be super professional and introvert so I never thought I would ever be able to jell up with anyone. But now after almost a year Meera and I are not friends, but sisters. We share room, food and almost everything."
Talking about their bond, the bubbly Meera aka Eshu share, "We stay 12 hours together on set. We also share are makeup room. We eat, dance, fight and have a lot of fun. Our fans have also given us cute name #MoniR