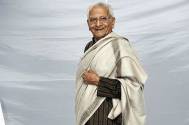 Meet Vidyadhar Karmarkar…the oldest actor on television
At 90, actor Vidyadhar Karmarkar, who plays a grandfather in "Dosti..Yaariyaan..Manmarzian", is said to be the oldest actor on Indian television.
Vidyadhar shot in Rishikesh for two months with the cast and crew, and the production house had to take extra precautions regarding his health.
While shooting in Rishikesh, the 90-year-old fell ill, but refused to come back here. So, he had a doctor at his disposal throughout the Rishikesh shoot.
Talking about his motivation to work at this age, Vidyadhar said in a statement: "Is there anything better to do? I would prefer to be on screen than sit at home and watch people be on screen. Also, my role is not a typical, dependent, depressed old grandfather. I am a dreamer who likes to dream and support others to pursue their dreams, so it's a fun role."
"Dosti..Yaariyaan..Manmarzian" is aired on Star Plus.