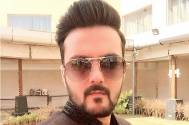 Micckie Dudaaney to enter Life OK's Dream Girl
Actor Micckie Dudaaney who was last seen in Colors' Shastri Sisters, will now make a grand entry into Life OK'sDream Girl – Ek Ladki Deewani Si (Shashi Sumeet Productions).
For a change, Micckie, known for his negative roles on TV will don a positive avatar in the show.
As per sources, he will play the role of a director. He will be the best director in the industry; the man would have assisted the dead Manav Sarin (Khalid Siddiqui) earlier. After Manav's death, Navrang Studios will now be in a state of debt, and Aditya, the character played by Micckie will step in to help Navrang get back to the top position. He will plan to make a movie for Navrang.
When contacted, Micckie confirmed the news stating, "Yes, I have started shooting for Dream Girl. It is a very interesting role, and I will play a positive guy."
Watch for this interesting track of Micckie in Dream Girl…