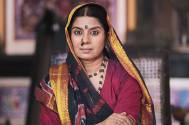 Mita Vashisht takes Bhojpuri lessons
Actress Mita Vashisht, who is currently seen as Jethi Maa in the television show "Kaala Teeka", is getting tutored for a Bhojpuri accent by her co-star Akshara Singh.
Mita says she is "fortunate" to have Akshara as her co-star and that her "tuitions are very helpful".
"My character in the show is very different from all my past roles and something that I haven't explored earlier, I want the audiences to completely believe my character. I'm truly fortunate to have such great co-actors. Akshara is a gem of a person and her tuitions are very helpful," Mita said in a statement.
Akshara, who plays Madhuri on the Zee TV channel's show, hails from Bihar and is a known actress in the Bhojpuri world.
Mita says that Akshara's tuitions are helping the actress in "setting the right tone for Jethi Maa"
"I'd like to thank Akshara for being such an adorable guru," she added.