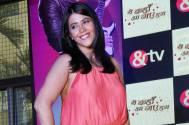 My dad is my rock star: Ekta Kapoor
TV czarina Ekta Kapoor is all set to launch her next show Yeh Kahan Aa Gaye Hum on &TV. The soap will revolve around the life of a rock star. It will also show a tale of friendship, love, trust, betrayal and a lot more between Rahul (Karan Kundra) and Maanvi (Saanvi Talwar).
Since Ekta, who has had made numerous shows on the same line, it was only evident that we asked her about her real life rock star?
"For me, my dad Jeetendra Kapoor is my rock star. I am sure that each one of us has someone special. It can be anyone for others, but for me it's my dad."
Awwww….that's what is called a true baap-beti bonding!