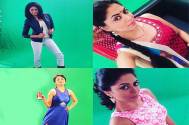 New TV show to reflect 'two-faced society'
In a bid to explore the hypocritic and two-faced attitude in Indian culture and society, the new satirical comedy series "Fakebook with Kavita" has been launched here.
To be hosted by actress Kavita Kaushik, "Fakebook with Kavita" will be aired as a simulcast on TV on BIG Magic and on radio at 92.7 Big FM starting October 19.
"The show is a mirror of the two-faced society, but it's not preachy as we are not trying to educate people here. Personally I'm also very much fake. The show is a family entertainer and doesn't have any below the belt or vulgar content.
"We will show how people become a hypocritic even when they don't want to be," Kavita said at the launch on Wednesday.
The show will also feature actors Kunal Kumar and Manju Sharma.
"We will showcase all the fake faces of the Indian society through small skits. Apart from being the narrator, I'll be seen playing different characters in different situations, which I like doing.
"People will see me in all avatars like of a Punjabi woman, Gujarati woman or a college girl," said Kavita, best known for her portrayal of Chandramukhi Chautala in popular show "F.I.R.".
The launch of the show witnessed Kavita asking journalists to share times when they became fake to get their work done. Kavita also did a small skit with Kunal to give a clear view of what all can be expected from the show.
Talking about the show, Kunal, best known for his role in silent comedy series "Gutur Gu", said: "We usually show off our personality and our individuality. As humans we must express ourselves to others but people don't do so to have a better image in the society.
"Through this show, we are trying to feature Indian society having a neutral view over it as we want people to express themselves in the real manner."
What's the most fake side of the society?
Kavita said: "Internet is dominating today's society. People usually pretend to be busy all the time over net, but that is not a good habit. Time is precious and shouldn't be wasted like that. Social networking is a complete waste of time if you are doing it for the whole day."
"Fakebook with Kavita" is touted to explore the satirical comedy genre on television.
"We are introducing a genre – satirical comedy, which has not been explored much on the small screen. 'Fakebook with Kavita' is a light-hearted, relatable comedy series with a fresh take on the hypocritic Indian society," Bimal Unnikrishnan, creative director, BIG Magic, said in a statement.