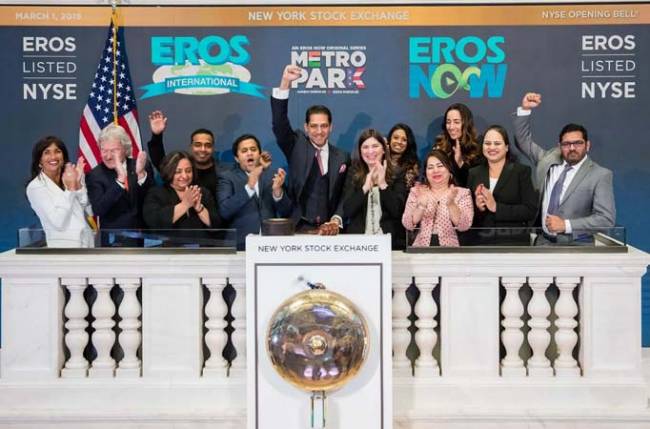 Omi Vaidya Rings Opening Bell at the New York Stock Exchange for Premiere of New Original Series – Metro Park

MUMBAI: To celebrate the launch of the Eros Now original series, Metro Park, Prem Parameswaran, Group Chief Financial Officer and President of North America, and Omi Vaidya, one of the stars of Metro Park, ring the Opening Bell at the New York Stock Exchange on Friday March 1st. Metro Park, which released on March 3rd, 2019 is a light-hearted comedy revolving around a Gujarati family based in suburban New Jersey.
Deep-rooted Indian cultural habits are the catalyst for this situational comedy and the nine-part series engrosses audiences while making them laugh. The story begins with Kannan and Kinjal, a young couple, moving out of their small apartment in New York City to New Jersey to stay closer to Kinjal's sister Payal, and her husband Kalpesh in New Jersey. New Jersey is home to many Indian families and this series highlights their day-to-day life with in a way that is sure to make audiences laugh.
With Indian values at its core, this comedy highlights different quirky Indian characters, cultural differences, modern relationships and age gaps. The show promises to build an instant connection with Indian audiences globally. The well-defined characters are expertly played by Ranvir Shorey (Kalpesh), Purbi Joshi (Payal), Omi Vaidya (Kannan) and Vega Timotia (Kinjal). The very talented Pitobash Tripathy will also be featured in the comedic role of an Assistant to Kalpesh.