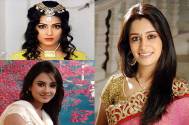 Patali to slit Devika's throat; Simar to get captured in sindoor in Colors' Sasural Simar Ka
Colors' popular show, Sasural Simar Ka (Rashmi Sharma Productions) is always at the peak of its drama, and this has really kept the viewers at the edge of their seats…
The new drama to have created an intrigue is the sudden change in Simar due to the effect of Patali (Meghna Naidu). And with the Patali getting into the avatar of Gayathri, things have really seemed confusing at the Bharadwaj house.
And now, with Gayathri telling the family that Simar will get back to her real self only after the murti has been erected at their place, the entire family will be ready to do even that..
However, Devika (Deblina Chaterjee) who has now come out of the doll will take the murti away and keep it with her in the jungle.
Also, the episodes further will see Patali sending out the smoke God to find the whereabouts of Devika. Post this there will be a huge confrontation of Devika and Patali.
As per a reliable source, "Patali with the help of smoke God will get to know of Devika getting all the more powerful with her penance in the jungle. She will immediately confront her, following which there will be a fight. Patali will vow to kill Devika."
Viewers will see a gruesome fight between the two, at the end of which Patali will be seen slitting Devika's throat. With Devika lying lifeless, Patali will emerge victorious.
Does this mean the end of Devika? Or will she get back to help Simar?
Also, we hear that soon there will be one more revelation with viewers getting to know of the real Simar (Dipika Kakkar) being captured in the sindoor of Simar. Since Simar is in the sindoor, this will be an obstacle in Patali not converting Simar completely into a Patali bhakt.
Will Patali get to know of this?
We tried calling Dipika and Deblina but did not get to them.