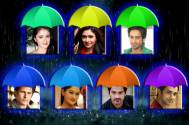 #PehliBaarish: Find out what TV stars were doing!
After the scorching sun, the rains have finally arrived in Mumbai (thank god!).
When it rains, all we want to do is either get wet or have chai and bhajiya sitting at the window. Rains bring both hassle and happiness to Mumbaikars.
We spoke to some popular TV celebs about their first rain experiences…take a look:
Mihika Varma
Just two days back I was shooting a tense scene at Atharva College (Malad). We had to give serious expressions, but suddenly it started raining and we all started enjoying the rains instead of shooting. On a rainy day I love to have aloo ke parathe or the famous vadapav you get near Mithibai college.
Shakti Arora
I went for a long drive on Worli Sea Link and then Marine Drive. I then went to Taj for a late night coffee at 3 am and had a gala time. I really love rains and enjoy relishing on hot chai, vada pav and kanda bhajiyas during monsoons.
Mrunal Thakur
Every year Mumbai eagerly waits for rains to come, just like me. This year on the first day of rains, I went for a long drive to Mount Mary (Bandra). People say that you should not get wet in the first rain as it is acidicl, but I just love rains, as I am a monsoon baby. I enjoy eating garama garam bhajiyas, dosas, chaat and Ice-cream during the rains.
Mudit Nayar
I was shooting when it rained for the first time this year. We all had a good time, we called for chai pakodas on the sets. My all-time favourite snack is samosa, I can eat it in any season and in the monsoons, I eat more!
Neil Bhatt
It was late night and I was driving back from shoot. Basically, I love driving and monsoon is the perfect season for going on a long drive! I love indulging in kanda bhaji, siting at the window, along with lemon grass tea .
Kanchi Singh
I was actually upset about something the other day, lying on bed and watching TV. When suddenly, it started raining and my mom made a cup of coffee for me, which changed my mood. My didi and I went down to get wet in rains! I love having French fries when it's raining.
Mrunal Jain
I was sleeping, so I actually missed the moment the rain came. But yes, it is my favorite season and I love having banana chips and samosa pav.
What was your experience of first rain? Share with us below.