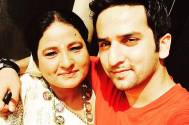 Puru and mom Vibha steal some family time off shoot
Well, shooting for long hours definitely takes a toll in one's personal life and he or she hardly gets any time to spend with their family members.
But thankfully for the loving mother-son jodi, Vibha Chibber and Puru Chibber, who shoot in Filmcity (Mumbai), they manage to steal time for together.
Vibha is a part of Piya Rangrezz (Life OK) and Puru is in Reporters (Sony Entertainment Television).  They keep busy but have found a way to sneak out time.
Shared Puru, "Since we both shoot in the same vicinity we have decided to make time and at least have lunch together sometimes. I usually get food from home and recently when Maa was also free, we decided to get together and have our lunch. It was a really nice moment and I felt so much like home."
So is this the regular practice we asked. "Not really since we shoot at different schedules. But we have decided that whenever we are free we will make up for all the loss time. Lives of actors are really difficult as we don't get to spend much time with our families, so this opportunity is definitely a great one (smiles)."
Wishing you more blissful times ahead Puru!!!!