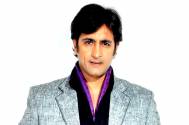 Rajev Paul nominated for ArtistAloud Music Awards
Actor Rajev Paul, who launched a book of poetries two years back, entitled 'Mumbai Mohabbat Aur Tanhai', has recently added another feather to his cap.
The known actor has recently been nominated for the ArtistAloud Music Awards, an award ceremony for which big names from the music industry like Vishal Dadlani, Shreya Ghosal, Honey Singh have also been nominated.
Entering into the same platform with the big names, Rajeev shared, "My poetries from my book have been composed as songs by a new band named Shadow. I have also recited few of my poems in the album. And definitely it is a big honour for me to get nominated with such big shot names."
Speaking about writing lyrics, Rajev mentioned, "I am a very much sensitive person and I am very much careful about what I write because I believe that as a writer I have some social responsibility. I don't like those lyricists who use cheap or abusive kind of language. There are many ways of complimenting someone, so, I personally believe that there is no need of using such languages which demean others."
"And if someone tries to reason that just because people want to hear such things I will say those are all rubbish. Look at the songs of Aashiqui 2 which was perhaps one the best album of the year without using such kind of languages so, these are mere excuses," added Rajeev.
So, what about the popular singer Honey Singh, who has also been nominated along with you? "There is no denying of the fact that his numbers are really peppy and even I enjoy those. But for lyrics all I can say is hope that more power is bestowed on the young singer so that he can gradually make changes. Personally I am very sure that I will never write such lyrics."
We wish the actor turned poet all the best for his achievement.