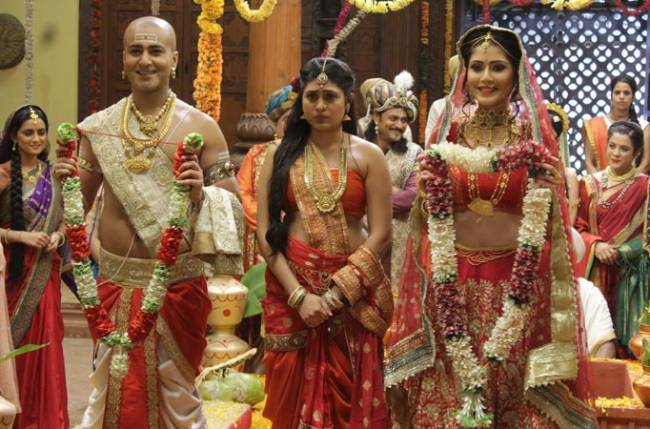 Rama's second marriage on SAB TV's Tenali Rama

Sony SAB's Tenali Rama is about to bring a huge twist for its audiences with a new entry. Krishnadevaray's (Manav Gohil) sister brings along her niece to marry him, who instead falls in love with Rama (Krishna Bharadwaj) and just then, the complications arise.
With the entry of Sugandha Devi (Aishwarya Raj Bhakuni), there's a lava of troubles entering Rama's life. Initially supposed to marry Krishnadevaray, Sugandha gets attracted to Rama and proposes to marry him. Taking advantage of the situation, Tatahacharya (Pankaj Berry) plays his games so as to cause problems between Rama and Sharda. To everyone's surprise, Sharda sells Rama to Sugandha for money, in order to test Rama's loyalty. However, twist arises when Rama, hurt by Sharda's actions, decides to sell himself and his son Bhaskar to other ladies of Vijayanagar.
What drama unfold as Rama and Sugandha are about to get married, is for the viewers to find out.
Talking about her entry as Sugandha, Aishwarya Raj Bhakuni said, "I am very excited for my role as Sugandha Devi and this new phase in Tenali Rama. I have been thoroughly enjoying my experience of working with the entire cast of Tenali Rama as they are very talented and supporting. Sugandha is here to bring a twist in everyone's lives and I am sure the viewers will enjoy watching what lies for them in the upcoming episodes."
Krishna Bharadwaj, playing the role of Rama said, "Rama has been receiving biggest shocks of his life with Sugandha Devi wanting to marry him. Whether he manages to get out of the situation is going to be extremely interesting for the viewers to watch. The audience has always shown immense love towards the show and I hope they keep doing the same as we grow."