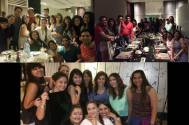 Reunion time: Kyunki… team parties hard
TV shows go off air but the bonding and togetherness among actors' remains forever. The relationship gives them special memories to cherish eternally.
The cast of the iconic TV serial Kyunki Saas Bhi Kabhi Bahu Thi (Balaji Telefilms) a family like team had a reunion recently and took a walk down the memory lane to cherish their good old days.
Almost everyone namely Jeetendra Trehan, Apara Mehta, Jaya Bhattacharya,Kamalika Guha Thakurta, Hussain Kuwajerwala, Shakti Anand, Khyaati Khandke Keswani, Narayani Shastri , Tuhinna Vohra, Ritu Chaudhury, Sandeep Baswana,Shilpa Saklani, Sumeet Sachdev and Sai Deodhar were present at the reunion.
We called Jaya Bhattacharya who played Payal told us, "Sudha (Shivpuri) aunty actually united us before leaving. She was a major reason for us to get together almost after six years. Three generations of Kyunki was together to pay our tribute to Sudha aunty. Ritu Chaudhury, Tuhinna Vohra and Prachee Shah Paandya took all the special efforts to organize this gathering. I must say we had great fun and enjoyed a lot.
She continued, "I still remember there was a small room where around 16 to 20 people used to get ready and that too without any fights or tiffs. It was a beautiful experience of our life and there are no words to define our friendship. We used to work round the clock and would enjoy doing so because we bonded like a family. I am proud to say that though there were too many ladies in the show, we still never had any negative vibes for each other."
Hit the LIKE button now if you loved Kyunki….