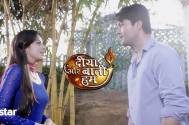 Revealed: Real culprit in Star Plus' Diya Aur Baati Hum
Star Plus' Diya Aur Baati Hum (Shashi Sumeet Productions Pvt Ltd) has been keeping audiences hooked to its boiling drama over Mohit's (Varunn Jain) death.
Now Tellychakkar.com is here to finally reveal you who the killer is!!
All these while, the noose has been hanging upon Sooraj (Anas Rashid), after he confessed on killing Mohit. But with Sandhya (Deepika Singh) sensing it to be not the complete truth, she will get into her 'investigative' best and find out the real culprit.
Any guesses who would be the real murderer?
It would be none other than Bhabho (Neelu Vaghela). Shocked? Even we are!
Shared a source, "The track will now focus on the lines of 'Mother India' wherein a mother would kill her son after his evil side comes to the fore. The show has a lot of drama in pipeline which would amaze the viewers like never before."
It does seem to be too much dramatic isn't it?
Post the revelation of Bhabho's crime, Sandhya would be left in a difficult state whether to save her husband or her mother-in-law.
We tried reaching Deepika for a comment but she remained unavailable.