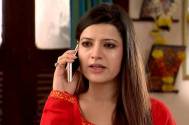 Revealed: The real VILLAIN in Yeh Hai Mohabbatein
Now this will come as a shocking piece of news for all!
After months of being in a tragic state owing to the changes in Yeh Hai Mohabbatein, a major revelation is all set to open up.
And trust us this one is really SHOCKING!
With the death of Rinki (Resha Konkar), a lot of twists and turns had led us all to believe that it was Mihika (Mihika Varma) who had murdered her. But now gear up to find who the real villain is!
Any guesses?
Well it is none other than Sarika (Sarika Dhillon)!
Chakkar aagaya na?
If sources are to be believed, "This is definitely an ace card that the makers will play in the coming days. It would be shown that Sarika designed the entire murder and put the blame on Mihika."
The creatives as per sources are keeping the upcoming track bound in secrecy to avoid viewers getting any hindsight to the drama that has been lined up.
But we promise to keep a close eye to the entire excitement! Stay hooked!
We tried reaching the actors but they remained unavailable.
What is your take on these shocking developments? Do let us know in the comment box below.