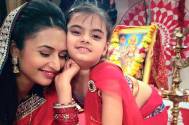 Ruhi-Ishita's HATE STORY to begin in Yeh Hai Mohabbatein
It will soon be mourning time for all the fans of Ishita (Divyanka Tripathi) and Ruhi (Ruhaanika Dhawan) as hatred will blanket their loving relationship in Star Plus' Yeh Hai Mohabbatein (Balaji Telefilms).
Ruhi has been counting on Ishita to take her back from her evil mother Shagun (Anita Hassanandani). Ishita on her part will be seen trying her best to do the needful, but this is when Raman would trick Ishita.
Shares a source, "Raman (Karan Patel) knowing well that Ishita would be bartering Aditya with Ruhi will take the legal papers away from her. He would then make Ishita understand that Aditya for now needs them and they can get Ruhi later."
Ishita would accept the decision, much to Ruhi's disappointment. When the little girl would get to know of this, she will be shocked and hurt and refuse to even meet Ishita or Raman.
Ruhi would confront Ishita and tell her that she hates her and will never ever stay with her. She will also upset Ishita stating that since Shagun is her biological mom, she should be staying with her and would now bond with her to stay happy the rest of her life.
What will be the outcome of Ishita and Ruhi's relationship now? Will Raman manage to help the two?
We tried reaching Divyanka but could not connect with her.