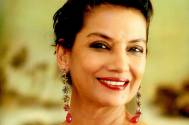 Shabana Azmi to star in British TV drama 'Capital'
Veteran actress-social activist Shabana Azmi will star in BBC One's TV series "Capital".
Being directed by Euros Lyn, known for works like "Happy Valley" and "Doctor Who", the series is an adaptation of John Lanchester's critically acclaimed and bestselling novel of the same name.
"Here is what I'm filming in London for. Toby Jones Emma Jones Adeel Akhtar all BAFTA nominees. Euros Lynn directs," Shabana posted on the micro-blogging site Twitter on Monday.
She also posted a link for more details about the show, the filming of which has begun in London.
According to bbc.co.uk, the TV drama also stars Toby Jones, Lesley Sharp, Wunmi Mosaku, Adeel Akhtar, Rachael Stirling, Gemma Jones, Robert Emms, Bryan Dick and Radoslaw Kaim. It is being produced by Kudos.
Set on a single street in South London, "Capital" is a portrait of a road transformed by soaring property prices.
"It is wonderful to see such a stellar cast starring in 'Capital'. They are sure to bring Peter Bowker's stunning scripts to life in their portrayal of such funny, true and brilliant characters. The wealth of talent involved both on- and off-screen will cement 'Capital' as a truly special drama for BBC One," bbc.co.uk quoted Lucy Richer, executive producer for the BBC as saying.