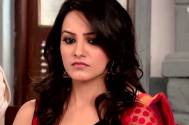 Shagun to get thrown out of the Bhalla house in Star Plus' Yeh Hai Mohabbatein
Saturday ….Saturday…It's Saturday guys and what's better way to make your day special than reading a spicy update on your favourite show Yeh Hai Mohabbatein (Balaji Telefilms) on Star Plus.
Now, the marriage sequence of Rinki (Resha Konkar) is adding more twists to the tale and in the upcoming episodes viewers will be treated with some more interesting moments.
To begin with, Shagun (Anita Hassanandani) will execute her vicious plans and stop Rinki's marriage. She would then go on to put the entire blame on Ishita (Divyanka Tripathi), hoping that the latter would be put down by the family. But in a turn of events, Mihika (Mihika Varma) and Romi (Aly Goni) would reveal the truth about Shagun's nastiness.
Shares a source, "With this, the family would be infuriated and Shagun will be slapped by Mrs Bhalla (Shehnaz Rizwan) for her act. She would blame Shagun for making a joke out of Rinki's life."
An insulted Shagun would be asked to leave the house and she will take the kid Aditya (Gautam Ahuja) along with her, much to the worry of the family. But Raman (Karan Patel) will assure everyone that he will solve the crisis.
As for the broken marriage, Mihir (Raj Singh Arora) will come to the fore and get married to Rinki making the family cheer in happiness.
Will everything be happy post these incidents? Or Shagun will create more trouble for the family?
Mihika and Anita remained unavailable for comment.