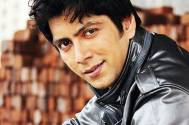 Sharhaan Singh bags Agent Raghav and Darr Sab Ko Lagta Hai
Television actor Sharhaan Singh, who was last seen in Sony Entertainment Television's Maharana Pratap, has bagged two episodics for &TV.
It is Agent Raghav (Contiloe) and Darr Sab Ko Lagta Hai (Reel Productions).
In Agent Raghav, Sharhaan will play one of leads Amit, who will go to a bungalow for a party with his friends and wife. The trio would find a dead body of an unknown girl there, leaving them in a mess. With them being present on the crime spot, they would be blamed for the murder. How the entire mystery would get solved is for viewers to watch.
Yesterday, we reported about Lillete Dubey and Mansi Srivastava being part of Darr Sab Ko Lagta Hai. In the story, Sharhaan will play the role of Siddharth who will take care of his late brother kids. He would hire Lillete's character as the kids' nanny. Later, she will be blamed of robbery and thus Siddharth will appoint Mansi as the new caretaker. But soon eerie things will start happening around her which will force her to leave the house.
When we contacted Sharhaan, he said, "It was fun shooting for both the show. Both are very different genre with intriguing storyline."
Watch both the exciting episodics in the coming days.